Lots of personal stuff going on, but a few small things to post:
Remember this:
Well, the final result of the Ravelry Scrumble Swap is this: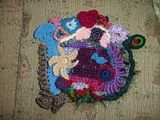 Clickable and really amazing freeform
An no, I am clueless as to what to do with it right now. It fascinates me the different techniques and touches each person added to the scrumble.
Secondly, another Tawashi: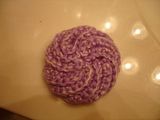 I liked this yarn "feel" better, it's a Japanese Antibacterial yarn, but just had a softer feel than the other-same brand, who knows.
I went ahead and bought some solid colors and a
Tawashi pattern book
(all crocheted patterns) and plan to play a little when I am up to chart reading.
Lastly, Elena received a cool little package in the mail the other day from
Kenyetta
: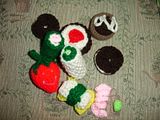 click me
Some knit sushi and dessert! Tekka Maki (tuna roll), California Roll, Tanago Nigei (Egg Sushi) with a side of wasabi and some pickled ginger. For dessert, a cinnamon roll, 2 Oreos and an Iced Biscuit. And for the all important fruit-Jim the Smiling Strawberry!
Thank you Ken, Elena loved all of it!