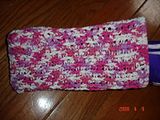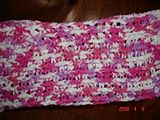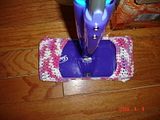 Okay, the experiment for the
Swiffer Shrug
for the Wet Jet is a semi-success, next tweaking will make is wide by two stitches-yes, two stitches will do the job (for me anyway, but that's me).
Changes made specifically for the Wet Jet:
Chain
20
for starting chain (I may do 22 next time)
Do hdc for rows 2-
8
Do fpdc/bpsc for rows
10-31
Row 31 is now Row 32 because of the additional row added above.
Do last hdc section, row count is
33-39
So that is the changes for the Wet Jet- have to wash this one, which is why I plan to make yet another (and bore you to tears with it)because of possible shrinkage.

ETA: I MADE THE OTHER AND THE CHANGES ARE POSTED HERE-FITS PERFECTLY EVEN AFTER WASHING AND DRYING!