After messing around with a few patterns I found online and not being happy with how much they stretched from the weight of the bottle or how the straps were worked, I just came up with my own pattern.
OVER THE SHOULDER WATER BOTTLE HOLDER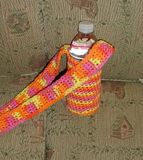 Both pics are clickable
This fits a standard 16.9 ounce plastic water bottle. The will fit tightly and you will have to tug it on, so if you are a tight crocheter, check after the first several rounds, you may have to go up a hook size and use more yarn. The cotton stretches from the weight of the bottle and the straps will too, hence a tighter fitting holder that when you wash it and dry it, will go back to its original size and not be next to your knees by the end of you using it. Designed to wear across the shoulder with the bottle hanging on the other side.
Materials:
One Ball (2 ounces of Sugar N Cream yarn). This was done in an ombre and used ever bit of yarn without any leftover-the solid colors have more yardage and I am not sure about the yardage of the Twists or Stripes. Any WW 100% cotton is fine.
H 5.0 mm hook
Tapestry needle
Stitch marker (optional, but helps with counting rounds).
Instructions:
Round 1- Ch 4 (counts as first dc), 11 dc in 4th ch from hook. Join with sl st in top of beg ch 4 (12 dc).
Round 2-Ch 3 (counts as first dc and do a 1 dc in same st as ch 3 here), 2 dc in each dc around. Join w/sl st in beg ch 3.(24 dc)
Round 3-Ch 1 and sc in bl (back loop) only of each dc (this forms where the bottom of the holder goes around the bottom of the bottle shape).
Rounds 4-26-these are done in a spiral method-place marker in first stitch of each round and work 1 sc through both loops of previous round to til round 26. This should end up being about 3" from the top of the cap of the bottle and where the holder ends-remember stretching). Do not finish off.
Strap:
Ch 1 and turn-sc in same stitch as ch 1 and next 3 st (4 sc), ch 1 and turn. Continue this until strap is the length you desire (Mine was about 42"-remember, it stretches). When it gets to the size you desire, fasten off and whip stitch to other side of holder opening (eyeball it-it's just a bottle holder). You can sl st it on, but I preferred the way the whipstitch looked.
Join yarn from right side of strap (side facing you) and sc evenly along one side. Repeat for other side. Fasten off and weave in ends.
Again, this will fit the bottle tightly, but once you get it on the bottle it stretches perfectly!
ETA: CORRECTION MADE TO ROUND 3-SC INSTEAD OF DC (IT'LL STILL WORK, BUT IT IS A CORRECTION)

This pattern and all its contents are ©copyrighted April 2008 to Deneen St Amour and may not be copied, reproduced in any way, or used for profit in any way. Pattern is for your personal use only. You may sell the finished item. Any questions, contact me at yarnsandmusings(at)gmail.com.
I will have this pattern set up later as a free Ravelry download for anyone who is a member.
ETA: Oh my, I uploaded this onto Ravelry at 1:55 this afternoon, by 2:00 someone had favorited it and now, at 5:00 PM, there have been 14 downloads of the pattern, it's in 5 queues and favorited by 2, it's kind of freaking me out.