Yup, I promised a few out of these and still have to make one for Elena's camping trip. This is for a little boy. Dark colors as not to show the dirt. Last minute I decided to cross stitch an A (for his name) on it to add some color to it (see, I know how to cross stitch too, but stopped a while ago due to carpal tunnel syndrome. I even got rid of all my cross stitch stuff, but have samplers all done here, not framed, but done).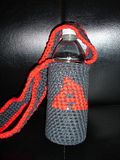 Basic
Over the Shoulder Water Bottle Holder Pattern
.
Changes: Strap done to about 34" to accommodate kids height.
Yarn used: Peaches N Cream in Licorice. It's a 2.5 ounce ball of the solid-still have enough left to use the black for the trim on another one I planned to make for myself in black, white and gray. Trim is done in Cherry Red Cotton Ease, as well as the cross stitch "A".