Yes, it's been a little bit since I blogged, craziness here, however I did finally perfect the Wet Jet Swiffer Shrug. Yes, I know you've all been on the edge of your seats waiting, but wait no more (LOL).
The original pattern was for the
basic swiffer
and worked out great. But then I bought a Wet Jet two weeks ago and the regular swiffer shrug caused a wrestling match putting it on, especially after washing it (cold water, low dryer and tiny shrinkage). The Wet Jet has one side that is thicker then the other for "scrubbing action"-so I had to tweak it up a bit, but it's washed and dried and fits absolutely perfectly. Unfortunately, I am unsure about how much yarn it used (I weighed it after washing and it weighed 2.1 ounces of WW cotton yarn-Bernat Handicrafter).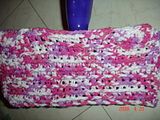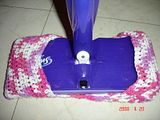 I did a tweak for this on a
prior post
, but have perfected it now (I swear). I did see someone did a shrug for a Wet Jet, but it looked different then mine-perhaps an older or newer model-I bought mine recently and it's the purple one. Here are the tweaks:
Chain 22 for starting chain
Do hdc for rows 2-8
Row 8 (ch 2-counts as dc, so 1 dc in first hdc and end with 1 dc in last dc)
Do fpdc/bpsc for rows 10-31
Row 31 is now Row 32 because of the additional row added above.
Do last hdc section, row count is 33-39
You still have to stretch it a little to get it over the thicker side, but it fits the entire bottom perfectly and stays on well.
Onto other news, warning about credit card fraud-yes, I didn't think it would happen to us. Mike and I had a credit card we decided not to use because it had higher interest, but kept it for "in case of emergency". Well, I cut mine up so I didn't accidentally use it and didn't think about it again. Last Wednesday a statement for it came in showing a $5.00 charge to a donation to the Cancer Society. Mike asked me about it and I knew I hadn't used it at all. I felt funny calling the credit card company to complain about a donation of so little, but it just didn't seem right. Mike thought maybe they were off a digit on the card and it might have been an accident, but they usually ask for expiration date, code number on the back, billing addy-the whole routine.
Stuff has been busy and Mike didn't call, but this morning I came home to a message from the credit card company saying they had a few questions about recent activity. I called Mike, gave him the number and told him to call since I cut the card up long ago and didn't even have the account number. He called and apparently this past Saturday, someone charged $250.00 worth of internet purchases to the card. Well I know it wasn't myself or Mike, so he had to cancel the card and they're sending us forms to fill out. They won't give any other info out about the charges til we do the paperwork (why I don't know, it is our card and they called us before we had a chance to call them). I guess the $5 was a test run on the card-dunno. Of course, the billing is on hold til it's all cleared up, but what a PITA really. It just made me wonder how anyone got the info? I mean, I had used it online before, it was a Paypal back up funding card, etc. The list is endless. I guess any employee who processed the card at one point would have all the info and hold onto it awhile. Ironically, Mike and I had stopped using the card and at least the credit card company picked up on it quickly-just so weird.