I was reading through one of my subscriptions on Bloglines and they mentioned Crochet Insider and I went back through the archives and reread my pal Tina's profile. Tina and I have been writing back and forth a year or more and how we connected, I can't remember-something with an email question or something or other and bam-we now write (although lately it hasn't been as much) almost daily. Tina doesn't blog, she has a website she's been working on for 6 months now (hint woman!) and designs her own greeting cards, which she sells in various stores and co-ops on consignment. She hasno clue about gauge (seriously) and just grabs a hook (apparently doesn't matter which size either) and goes to work and yet can make the most amazing tapestry crochet all freeform. Never uses a pattern or writes one out either. She simply amazes me, the queen of "must have the pattern, must be exactly right, must do this and that". Quite honestly, I wish she did write patterns because I wanna make some of her designs, but I can't talk her into it and yes, I have tried! Apparently, it's too "restricting" (LOL). She's lived one of those lives that some would consider "bohemian", but I honestly envy her freedom and can only imagine how cool it must have been when she was younger and how it is now just to kinda make do the artsy thing and live the simple lifestyle without any real care for material things or the stresses of the crazy lives some of us live. She's settled down now, kinda, in a house she built herself in the mountains of Arkansas-is a mom, grandmom, yet still a homesteader at heart. (Okay, she has a cell phone, regular phone, TV, internet connection and drives a car-but still, doesn't have the encumbrances we all put upon ourselves.
She totally rocks, is totally cool, so artistic-yup, she amazes the hell out of me. Rereading the article and seeing the pictures of her freeform tapestry work never ceases to amaze me.
Go read about her, look at her work-remember, just wool yarn and a hook and an imagination.
Truly OOAK stuff too. (Look at baby Jules too-that's her grandbaby and yes, she did the name blanket freeform, just as she went along).
Here's a sample of her "no pattern, just a hook, some wool yarn and her imagination"-one of my favorite pieces: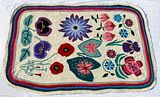 Click me!
And yes, that's a lifesize doll she made of herself (check out the pic of it at the bottom of the article), freeform of course and yes, she does look like Rhea Perlman-no denying it, although she argues the point that she doesn't so strongly, I suspect that I am certainly not the only one who has ever mentioned it-so ha! I have seen many other family photos and the resemblance isn't as strong, but sorry Tina, it's there.