I completed the bag a few minutes ago. It's a terrific pattern and easily tweakable for yarn usage, how tightly or not tightly you crochet-etc.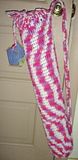 (Clickable)-side view hanging

Strap view


side view standing
Pattern:
Shavasana Yoga Mat Bag
Yarn used: Bernat Handicrafter 100% cotton yarn. I bought a big 12 ounce skein last year and this project used exactly 7 ounces.
Hook size used: I Hook (versus the K hook it called for)
Changes made: I don't know if the designer is a tight crocheter or her mat was bigger, but after playing around with it a few times, I went down to an I hook size and only went to Round 4 and then started spiraling around. I did work it until it was 3" shorter than the mat itself while in the bag. Because cotton can tend to stretch, I thought using the smaller hook would make for a more dense fabric. The strap is the same length as the bag (less the ribbed part) with the bag laying flat. Again, I anticipate the strap stretching and did add the sc edging around it.
In the picture, it shows the mat right to the top of the drawstring. With use and, again, knowing it's going to stretch, it should fit perfect.
I chose the cotton because I had it, can easily wash it (which I could do with acrylic, but again, I had it and wanted to use the cotton) and my mat is purple and it matched.
Again, terrific pattern, easily adaptable with any yarn/hook depending on what you want.
Now, onto the
Swiffer Shrug
, maybe some of the same designers
Cotton Dish Sponges
(which may be easier than the Cotton Spiral Scrubbies I had been making and may dry faster). I also plan to peruse the latest issue of
Interweave Crochet
, which came last Wedesday, but I never had a chance to even look at.