As stated on a previous post, Elena's school has a Grandparent's Day. The grandparent's, grandparent, aunt, uncle or someone special gets to visit their classroom for about 40 minutes and then have lunch with them in the cafeteria. Each teacher does it differently, but this year, groups of four or five kids are doing little plays/skits. Elena is in the "Country Mouse and the City Mouse" skit. She is playing the country mouse and her friend is the city mouse. I had asked for ideas on making the ears, and Mimi directed me to a pattern, but it wasn't quite what I wanted, but it gave me some great ideas in my head anyway and I played around and came up with this:
The bottom pic, with both pairs, was the first set and I didn't like making a circle and joining and chaining one and wanted a simple spiral, so I came up with the single pair shown. They both look almost the same, the single pair used a bigger hook for the gray part is all. It depends on the look you were going for.
The top single pair was the second pair, finely tweaked and completed. They're real simple and should be fine.
The pattern for them is this:
Materials: Small amount of worsted weight acrylic yarn in gray and scant amount of pink baby weight yarn. You can use worsted for both, just change the hook size for the pink baby yarn.
1/2" headband
H hook (5.0 mm) and G hook (4.0 mm). If you are a loose crocheter, go down a hook size-these have to be done tightly.
Stitch marker
Tapestry needle
Step one:
Slip stitch and sc around entire headband, pulling the stitches together as you go around. Leave the seam part at the top of the headband.
Ears: Make two of each
Using an H 5.0 mm hook (or 4.25 mm if you are a loose crocheter)and WW gray yarn.
Ch 4, join w/sl st to form a ring. Do 6 sc into center of ring.
Round 1: (this is worked in a continuous spiral til the end, move stitch marker up each round and make sure your last increase stitch is in the stitch marker space. 2 sc in each st around (place marker in last stitch done)
Round 2: 1 sc in next st, 2 sc in next st around (move stitch marker to last stitch done, which should be 2 sc in the last marked stitch)
Round 3: 1 sc in next two sc, 2 sc in next sc around.
Round 4-1 sc in each stitch around evenly
Round 5: 1 sc in next st, 2 sc in next st around. Sl st a few stitches after last sc to round out the each, fo and weave in ends.
Using smaller hook and using pink baby yarn (if using WW use same size hook)
Repeat above steps excluding round 5. At end of round 4, sl st into a few more stitches and finish off and weave in ends.
Place wrong side of pink circle onto right side of gray circle and using gray yarn, sew pink part onto gray part.
Measure where you want the ears to be on the headband and using tapestry needle and WW gray yarn, sew onto seam tightly, making sure bottom part of ear is flat ont he headband so they stand up. Weave in ends and that's it!
I'll probably have to use bobby pins to ensure the headband stays on both the girls heads tightly, but with the seam, you can just push the pins through the top part and attach to their hair.
This pattern and all its contents are ©copyrighted March 2008 to Deneen St Amour and may not be copied, reproduced in any way, or used for profit in any way. Pattern is for your personal use only. You may sell the finished item. You may post a link to the pattern.
I also made a shawl for my country mouse using some leftover Light N Lofty (I think, it's been in the stash for two years now, unmarked) and an N hook (10 mm)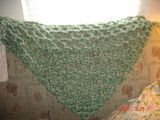 Grandparent's Day isn't til April 4th, but I wanted to get them done and out of the way, with how slowly stuff has been getting done here lately.
The URI/bronchitis seems to have really knocked me on my butt this time and I am sleeping an awful lot lately-it could be that or who knows-I won't see the neuro til the end of the month and I'll discuss it with him then.
Me being me, I have some spinning I really want to play with, as well as some felted bags (yes, I know it's almost Spring, but this happens all the time with me). I want some small, fast projects.