Yesterday was really nice. Elena could not sleep on Saturday night, was up and down all night-way too excited. In any event, the Easter Bunny, after having several years of egg hunts at around 6:00 AM outside, in the cold, when it was still dark, decided to hide the eggs in the house. Imagine how surprised he would have been to find out, Elena preferred it inside! Anyway, around 6:00 AM she woke up and just couldn't take it anymore. She told me last night she was happy he came and it was over, she couldn't take much more anticipation. In any event, I made a small Prime Rib, smashed red potatoes, fresh steamed asparagus followed by apple walnut cheesecake. A pretty easy meal on a pretty laid back day.
Ironically, when getting Elena's clothes out for yesterday, I came across
this
. If you look at the date, exactly one year to the DAY of when it was completed, she finally wore it (I didn't realize it til I looked up the post today myself-kinda freaky, no?). I anticipated she would give me a hard time, but didn't and wore it all day. It probably fit her better this year anyway: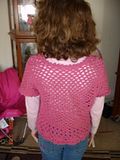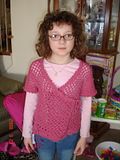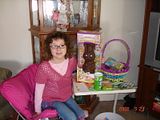 Yup, we're pretty casual around here on holidays. I also have no clue why the pics have been coming out blurry lately. I have to clean the lens better and hope that works out.
As for FO's-as you may or may not recall, I had picked up 8 skeins of Lion Boucle a year or so ago (probably longer) and finally decided to stash bust a little.
I made a bag, which isn't lined yet and the bottom isn't in it yet, but here it is: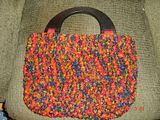 I plan to use it as a project bag. The bag took 5 skeins or so.
I also made another Chunky Brimmed Winter hat using the boucle and an L hook, since I misplaced my other hat and it's still chilly in the AM here (27 this AM)
2 skeins of the Lion Boucle and it could have been a tad smaller, but I don't care really-it serves it's purpose.
Not much else going on here-Spring Break for Elena and we're hanging today. Lots of laundry and other stuff to do and really a day of chilling out is what we need. I am working on the
Shavasana Yoga Mat Bag
for myself. I am using Bernat Handicrafter Cotton yarn and an I hook (two hook sizes smaller than required). I am not sure if the designer is a really tight crocheter or what yarn she used, but the other hook was way to big and honestly, I only had 4 rounds for the beginning versus the six and the bag fits fine so far. It's a pretty easy pattern (okay frogging it twice stunk for me, but I had to get it right and not too big) and I think I'll be pleased with the outcome. Who knows, maybe my yoga mat is smaller than the norm. Hopefully, I'll be done that in a day or so.