Ah yes, the fiber related post. No, no finished items, no spun wool, no anything actually done, but as those who read my site know-acquisitions are half the fun for me. I stated before, that I've had the wheel a year, but at
Jaye's
suggestion, decided to hand spin first before starting the wheel. I also decided to do a big no-no to some and start with some pencil roving. Sorry, but that'll give me a feel for the spindle and then I can figure out the predrafting from there. Always baby steps for me.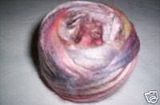 Tori Superwash Pencil Roving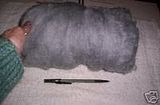 Gray Grace Superwash Regular Roving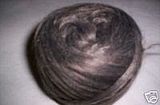 Cocamo Superwash Pencil Roving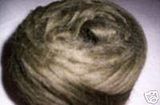 Deep Olive Superwash Pencil Roving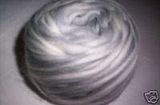 Sammie Superwash Pencil Roving
Sterling Superwash Pencil Roving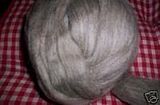 Corriedale Roving

Okay, let's just say I've been acquiring. I also bought some soy/wool that looks gorgeous. I am stockpiling certain colors (like bunches of the sterling and am waiting for another shipment as I type), but lets just say I love the feel of this and am pretty excited to start playing. However, because I keep buying bunches of the same color, keep waiting to spin til it's all in, but then I keep buying, see the vicious circle here?
So where did I buy this stuff?? So glad you asked, from Doxie and her eBay store The Special Tea Shop. I believe I have ordered four or five times so far and have been thrilled. It comes nicely bagged and labeled and is so soft and wonderful. I may be cutting my nose off to spite my face by posting this, however I think she deserves kudos for her service and wonderful product (she's super nice too) and decided to share. She sells pencil roving, regular roving, superwash roving (all dyed by herself, handspun yarn, hand dyed yarn, sock yarn, bulk herbs, beading supplies etc. She combines shipping (when you're done bidding, send her an email and she'll combine it for you) and as you can tell, I can't say enough. Lately, on Ravelry and other sites, there has been some griping about eBay sellers, but she's the real deal. She's also a board certified Naturopathic Doctor-kind of an interesting combination, no?
She also informed me that if her just turned 6 year old son can spin this stuff, apparently I can too!
So without further ado, here's the link:

If you go, please tell Doxie I said Hi! (and don't bid against me, please ;))
BTW, I am in no way affiliated with this store and am not making any commission or anything from this endorsement. I am thrilled with the fiber I have been getting and wanted to share.