The other day
Kimberly
posted that she was selling some of her gorgeous Mohair Roving because she was planning on more weaving (although today's post showed her and her son both spinning ;)). I bought some in it came in yesterday and was gorgeous. She also included a bag of fibery scraps for me to try my needle felting with (yes, I destashed and am wanting to get into spinning, needle felting, maybe more beading and give the hooks a break and maybe even pick up a set of needles)
Here are the goodies: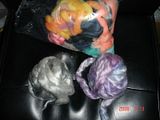 She still has more for sale
here.
. I love the colors I received and can't wait to play.
I also received, no pic sorry, some yarn Bron had destashed-Noro Lily, which is awesome and some Silk City Softball Tweed, enough to make a jacket for me and enough or the Noro for something nice for me also.
Of course, I haven't done one fiber related thing with the exception of washing clothes, which doesn't count!
I did finally go to the doctor yesterday. You know when you think it's something worse than a cold and you go to the doctor and they tell you it's just a cold, drink fluids, etc? So the next time you get sick, you don't go until you wake up with one eyelid twice the size of the other one and sounding like a cartoon character after they have inhaled helium? I went, he said "Why did you wait so long?"-truth be told, it was only really a week-splitting headache last Wednesday, a little dizzy Friday (figured sinus stuff), loss of voice Saturday-but no temp or anything. Monday felt like crap, no voice, again, allergies or something because of the weather. Yesterday I gave in because with a holiday weekend, I didn't want to wake up Saturday and curse not going. Sinus infection, left ear infection (didn't hurt til he looked at it and had to put the darn light in it), start of pleurisy, viral conjunctivitis. I'm sure there was more, I lost track. In any event, Valentine's Day wasn't very romantic or anything, but I did start the meds, eye drops and other things and feel better today and Mike did trudge back out after getting home late with take out Chinese food because the darn pharmacy charged us for a script, but forgot to give it to him. I could have gone this AM, but he insisted I needed the eye drops last night-so there it is, true romance-
I probably won't have anything new to report this weekend fiber related, Elena has a four day weekend and I think we'll just hang, but who knows, maybe I will FINALLY finish the darn shawl that's been sitting for over a week now. On the bright side, I read 3 books.