Not much really.....first off, thanks for all the compliments on Elena's Hat-I have plenty of testers now and hopefully will have the pattern up on the site shortly (freebie, of course).
I did actually crochet something: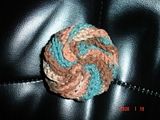 Ta-Da! Hold back all your excitement now-it's a scrubbie for the kitchen-I can hear all the oohs and aahs right now.
Easy
pattern
, only uses about 1/2 a ball of Sugar N Cream (Country Brown Ombre for those wondering what I used for mine). It's a pretty cool site for free patterns simple patterns, once again found on Ravelry.
I am also testing a pattern for
Amy
, whose patterns I always love and she is seriously a genius when it comes to easy patterns that look so darn good and look like they would be so hard, yet she simplifies them. (Can ya tell I'm a big fan of Amy?). She's being published all over lately-Tilli Tomas, O-Wool,
Blue Sky Alpacas
,
Crochet Today!
,
Crochet Me: Designs to Fuel the Crochet Revolution,
, just about everywhere you look. In fact, her the next issue of Crochet Today! will feature a vest design of hers on the cover. Kudos to Amy!
I also FINALLY picked up two enamel pots for dyeing wool on the stove versus microwave so I can start using the acid dyes and not worry about poisoning my family! I stopped at Goodwill today and got two nice sized pots, in white (which is what I wanted so I could see if the dye has exhausted itself. $3.99 for both-whoot! I bought this duo-tone merino about 1 1/2 years ago from
Stick Chick
over on Etsy I have been wanting to dye up. It's a two ply spun in such a way that it takes up dye at different rates giving it a two tone effect from one dye bath. I also bought some kid mohair I wanna try and handpaint.
I also am helping Elena's class make bath salts for Mother's Day gifts. This made me realize I have to go through all my supplies now and put them in order. My spare room is a terrible mess (think "throw and go") and I have a huge tote underneath a pile of soap making supplied that needs cleaning out so the soap making supplies can be put in the tote, as well as the pots I bought, crock pot for dyeing, mason jars, steamer for when I steam dye roving, etc. It would make things so much easier, however where to put all the other stuff is unknown. I have been tossing a ton of stuff, which I am sure I will regret later, but right now, I just want it gone and to be able to find stuff. The yarn purge went well and now it's time to purge other stuff-I really can't stand it anymore. What Elena doesn't know is the "toy purge" is coming next.......she has toys she doesn't play with, but is at that "in-between" age where she wants them, but doesn't play with them. She also is a packrat and gets attached to everything....no clue where she gets that from at all (I am serious about this-I am just a "throw and go" person, don't really have any true attachments to any material things-maybe just a few, but definitely not a packrat like my daughter. Mike, has nothing that he collects or really would care if I got rid of-okay, maybe the TV or something, but seriously, the man isn't one bit materialistic at all).
Oooh, my
Spindolyn
should ship out on Tuesday-I am so psyched about that cause I plan to play a bit and then down comes the wheel.............
Too many things I wanna do (and you noticed housework wasn't listed, didn't you????). I have babbled on enough here.