A while back, and honestly I am not quite sure when, I won a blog contest from
Terri
. Now let me tell you, Terri does it all-she knits, crochets, spins, makes jewelry, sews, does smocking, basically any art medium, she does and does well.
My blog contest package came in today and all I can say is WOW! and Thank You!.
She sent me one of her framed watercolors-it said all kinds of nice things on the back also, but I couldn't capture it in a photo, but it was touching. It's going up in my living room once the Hollyberry wreath comes down.
She also made me a necklace/earring set in silver that I adore-purples-my color and it's so perfect. The pendants can be used as stitch markers also (neat-o)
Some Green tea scented lotions, scrub and a candle. Some chocolate and tea, a local magazine from her hometown in Colorado and, can ya guess? Some sock yarn-in the colors I always use (LOL). The yarn is
Shellycoats
It's gorgeous and in the colorway Limenviolet.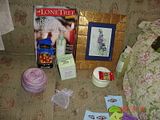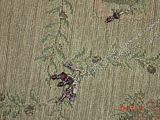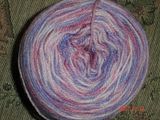 When Terri emailed me about sending it, I told her it wasn't necessary, but she insisted. It's funny because just yesterday, I had mentioned to someone about how the online community of crafters/fiber freaks/artists are the most generous, nicest people you ever will come in contact with. So many do so much charity work, donate time and their items to help raise funds for causes and are by far the most open, wonderful community.
I'm happy to be a part of that community and thank you all for letting me in.