The first one is completed-this took so long because I only worked on it here and there for the past several days.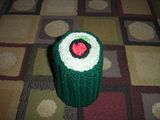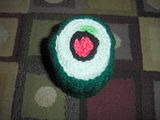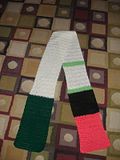 Pattern:
Sushi Roll Scarf
Finished size: 74"
Hook: Bates I (5.5) bamboo handle
Yarn used: Papaya Caron Simply Soft 1/4 skein, Caron Simply Soft White a little over 5 ounces (I think-there's a little left), Unknown acrylic in black-scant amount, really old skool acrylic in my stash (the stuff my brother got at the flea market) in Spring Green, but perfect for avocado or wasabi-scant amount, Hunter Green Mainstays acrylic (I have no clue how this got in my stash, but it was there-1/4 skein maybe.
Great stash buster pattern. I had all the colors in my stash, but did order another skein of Caron Simply Soft in White (I had other white acrylic in my stash, but the gift is for sisters and I wanted them identical-plus the CSS is very soft around the neck). I picked the colors I did because I didn't like the gold for caviar (just a personal thing) and I went with colors I had because I kinda liked the papaya better then the rose/pink for the center because unrolled, I liked the color pattern better.
I plan to wrap them rolled up and see how it goes. They're for teens (one younger and one younger) and I hope they like them.