I always hated my hair, got it straightened in my early 20's and didn't know what to do with it.
Elena has "always dreamed of straight hair" (yes, in her whole almost 8 years). I decided to take her for a haircut to avoid the rush next week. Now, Elena hates having her hair played with, brushed out, blow dried, etc, you get the picture. Unfortunately, it's darn cold and rainy here today and I told her she had to have it dried tonight before we left the hair place. Elena's "hairdress", yes, she has her favorite, Misty, talked her into letting her dry it straight. Elena was thrilled, until the whole process of the brushing, flat iron and everything else came out. She then saw the results and, well, of course she looked different. She smiled at Misty and when Misty went back to get something out of the backroom, Elena mumbled, under her breath "Never again, I hate it". I'm glad because the whole straightening thing took forever and honestly, ended up costing more then my hair cut and eyebrow waxing-so, for posterity, I have taken pictures so the next time she tells me "I want hair like so and so", I can remind her.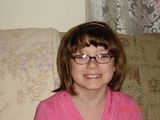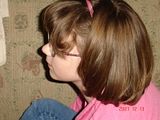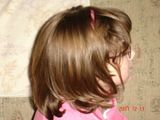 You can compare her curly hair by looking at my avatar on this home page.
ETA: She was looking at herself in the mirror and can't stand how her hair looks ("Dream gone bad", I am told) and I had mentioned to her (I didn't rewash it tonight because I thought she would change her mind and she didn't) that I could use a curling iron on the top part to have the bangs back for tomorrow. She said "Can you use it all over?"-but she did tell herself in the mirro, "Bye-bye straight hair, you'll be gone tomorrow".)