A while ago, the
Sanguine Gryphon
had a call out for submissions for her handpainted, kettle dyed and spun yarn. I submitted a pattern and finally, many months later (this whole design/publishing thing does take forever)
it's up and available at her shop
.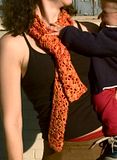 This is a "One Skein Wonder" using her
100% silk Tapestry yarn
(which was so wonderful to work with) and the yarn is available at her site. This scarf uses 300 yards of the Tapestry (she has two skein sizes available). It's a relatively simple pattern repeat and the yarn gives it a wonderful feel and drape.

You may recognize the scarf-it was the prototype I had blocking a few posts
back
.