I know it's technically not "last minute", but I have decided to start the ghan....insanity, I know, but it's easier then figuring out what else to get as a joint gift. Unfortunately, I also decided to make 4 more hats, one is needed for Saturday AM-so wish me luck on that. The hats are easy, one night watching TV-the problem is, will my arms and wrists hold out and will I get it all done? I did complete the fingerless gloves yesterday, no picture because I wrapped them and tagged them without even thinking about it. Even though no gauge is listed on the pattern, I had to use a D hook for the Magic Stripes because after a few rows I realized, they would be too big otherwise.
The ghan, last minute decision this morning, will be the
Susan B Easy Ripple
pattern, 55" wide one (the biggest, of course). Even if it isn't done for Christmas AM, at least I can show a partially finished product rather than a bag full of yarn and a "see, this is the colors it will someday be."
The hats, all Ele Schnier's Hipster Beanie Unisex Hats, all done in 100% merino wool. This pattern is my absolute fav-no decreasing, hook size changes and you just go round and round-simple, perfect and fast-error free-muy importante at a time like this. I finished one watching the finale of Survivor last night: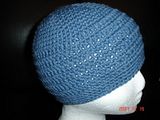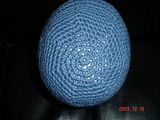 Patons Merino Wool in Denim-half a skein (so you get two hats per skein) and I did add an extra row rsc at the end (my new fav stitch for ending a pattern). I plan to do a few more, some in green and some in black (I know, dark colors and the eyes, but they are the colors I think I need, plus another denim one).
I did plan to go and return something I bought at Borders last week. Elena loves those Magic Treehouse Research Guides. I knew she wanted the Polar Bear one (she has the accompanying book that goes with it) and she wanted one on Volcanoes. They had the Tsunami one and it covered volcanoes or so I thought. She has the "High Tide in Hawaii book" that goes with it and I recall review the work Tsunami with her and assumed, and we all know what that does, she didn't have the research guide. I get home and see a pile of research guides in a bag and yes, the Tsunami one was in there, so I asked about it and she said it covered "underwater volcanoes" followed by an eyeball roll at me. Yes, I should have checked before hand and yes, I looked for Volcanoes specifically and no, they didn't have it. It could wait til after Christmas, but I saw a Dinosaur book she may want (wasn't sure, bought it as a gift for a birthday party for someone else and she loved the book) and I would like to get it for her, however the wind chill today is 21 and it's windy as hell and honestly, I am not into going out in it for anything. I thought I was done and it could wait, but I'm not good at waiting. Plus I realized, since the ghan isn't done, I need something small for my brother's girlfriend (I have some stuff, but it needs one more little thing). This is the problem with shopping early, you never finish. Although last minute shopping sucks and the pressure is on, you don't second guess yourself and overbuy. I didn't go nuts this year and we'll see how inspired I am to actually go. Today, for me, it's a long john day and laundry and cleaning and crocheting, I think. I may venture out to the post office, again, let's see how inspired I feel.
Baking cookies??? So low on the list, although the Pizelle iron keeps taunting me too. Who knows.....back to the ripple and yes, I will know by tonight how "inspired" I am to complete it in time.