I've finally made something that needed serious blocking and after hearing from someone on Ravelry about an inexpensive board, I bought it and finally blocked!
This is the board I bought from Joann.com
, it was $4.75 2 weeks ago, it's now $6.11, but is perfect. It's cardboard, but I pinned and sprayed lightly with water and it worked great (I wouldn't put anything sopping wet on it) and it folds nicely for storage. It was recommended by someone on Ravelry and she has been using it for months and spraying and never had a problem. Besides, Joann has free shipping, no minimum on their site-so if you're looking for something to use to block and don't have $75 to shell out, this worked out well.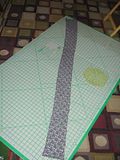 This is the prototype for a scarf pattern I came up with, soon to be for sale at
The Sanguine Gryphon
, which is why I can't show a close up of the item. She also has an etsy shop
here
. I will say her handpainted yarn totally rocks! The prototype was done in her Dance (handpainted 100% silk noil yarn), but the actual scarf was done in another 100% silk yarn she is going to be introducing soon that was so sumptuous to work with. The actual pattern was changed a bit from this scarf, with the use of a different yarn of hers, so it should be for sale soon on her site.
In any event, this will be a gift for someone for Christmas. Pics of the sushi scarf tomorrow, I swear. I made more soap this AM and was talking on the phone way to much to get anything but the soap and blocking done. Hopefully, I'll have it finished up tonight.
Also on the board is a doily I did in #3 thread last year and just got around to blocking :P.
BTW, it's snowing here-1-3" predicted, but it's only 29 degrees out, so I suspect some road freezing.