I finished these up yesterday AM: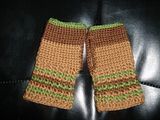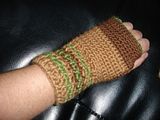 Pattern:
Wristables
by Chloe Nightingale
Hook Size: G (4.0 mm)
Yarn:
Knit Picks Andean Silk
in Cinnamon, Chocolate and Lettuce (gifted/won in a prize from
Megan
)
Only modifications I did was a row of sc around the thumb opening.
I also found out that my allergy seems to be to 100% alpaca and using this didn't bother me at all and now I want more of it :P
I also received my swap package from Ravven at
Twisted Skein
on Wednesday: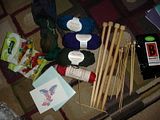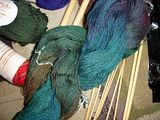 My package came with three skeins of Wool In The Andes in Hyacinth, Evergreen and Stream. A skein of Knit Picks Sock Garden in Geranium, A skein of hand dyed wool yarn in the colorway Gemini (fingering weight), a bag of Hazelnut coffee, two bags of Gummi Bears, a package of tealights in vanilla, and Clover Takumi knitting needles-lots of em! I wanted the Clover 17 and 19's for ages, but was too cheap to buy them for myself and I saw a pattern last week using #17 and figured I would pick some up to give it a try! There was also a set of circulars.
I already have the Sock Garden (Geranium) on the hook making some more fingerless gloves (Koigu Fingerless Glove Pattern from the 2007 Crochet Pattern a Day Calendar), designed by
Rainy Day Goods
. It's a terrific pattern and is working up quickly. It'll match my winter coat perfectly.
Also,
Joann
is having a "Free Shipping" special, no minimum order until next Wednesday. The code is NOVFSE7. I finally ordered the larger bamboo handled Bates hooks, as well as a foldable blocking board for myself.
Thanksgiving was a success; fun, family and friends, no disasters, all the food was great (too much of it all) with lots of leftovers for today.