I received a terrific package in today's mail from
Wendy
-knit socks (I adore the wool socks, seriously, can't have enough of em and since I don't knit-do some crochet, but with knit-the feel is slightly better) (sorry). I also prefer the 100% merino ones versus nylon mix, but I swear I'm not choosy.
Anyway, KKKPM socks: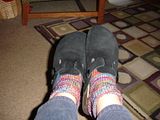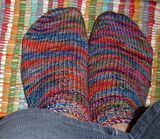 Thank you Wendy-I love em and am totally thrilled!
I have to share this too, last night we were up a bit late-after midnight celebrating Mike and Bernie's win and Elena, who usually can go all night without much sleep was all fired up. She also never naps, no matter how tired-well, never must be a fib because it's 5:06 PM and I noticed awfully quiet in the playroom. This is what I saw: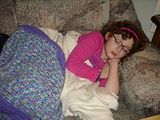 Amazing how darn sweet they look when they sleep, isn't it?