I used the single skein of Knit Picks Sock Garden I received from my swap partner and made myself these(pattern is from the CPAD Calendar 2007-Koigu Fingerless Gloves, October 8, 2007). These match my winter coat perfectly. Next pair will be made a bit shorter (smallish hands), but they worked out well.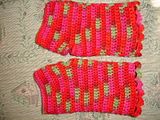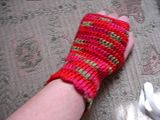 Elena is bugging me for a pair of purple, pink and lavender Wristables for herself now, went as far as picked out the yarn out of the stash herself-
Yes, I still am putting off making that ghan.....