This is the hat from yesterday's
post
.
Amy
asked to see it modeled, so:
I originally was making it for a pre-teen, but Elena saw it and, in a rare moment, declared it "her" hat-I think I crochet a bit tightly anyway and am trying it with a few different hook sizes today (the hat uses various hook sizes). Anyway, I also made an error (gasp) in the color-it's Blue Mint not turquoise.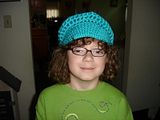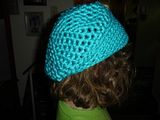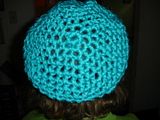 Please note, the "extra hour of sleep" everyone talks about is not to be, it just means Elena woke up an hour earlier today-the pic was taken immediately this AM-so excuse the sleepy face.
Also, included is Elena dressed for Trick or Treating-she was a genie this year. Yeah, yeah, yeah, her outfit isn't straight, but it was 5 minutes til Trick or Treat time and she was in a frenzy!