First up, as promised, Elena's hotpad. I learned several things: 1) The cotton loops are much tougher to use then the nylon ones from when I was a kid and you MUST use a metal loom. 2) Skip the first and last row because the loops are so thick, it's almost impossible to make it tight enough to get the last row done. Let's just say for a 7 3/4 year old kid, she got frustrated. I did the sc with thread edging just to get it done. As I recall, we used to weave the edges together, however since it was so tight and Elena was so excited about getting it done, I opted for the quickest method.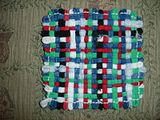 Elena picked out two bags of loops in neon colors (to match everyone's kitchen *cough*) and plans to make them as gifts this Christmas.
Next up, a WIP; the ghan for my brother: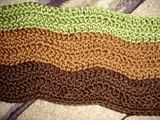 12 stinking rows and I still haven't gotten to the other color, I think it's "butter". It's a pretty mindless project except the counting I can't seem to stop my head from doing, "3 dc, 2 dc dec, 3 dc, 2 dc inc" over and over. It's pretty wide, a bit over 70" and I am doing 4 rows of each color before changes. I do loathe making ghans, only having made lap ghans and baby ghans before, because they take so darn long. I am actually considering having two things going at once so I don't go insane from the monotony of it all. Yes, breaking one of my own rules.
Next, the
Marvelous Fulled Mini Tote
is done:
K hook and Lamb's Pride Bulky in Kiwi and Victorian Rose.
And finally,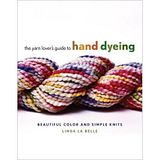 Also, I started reading
"The Yarn Lover's Guide to Hand Dyeing: Beautiful Colors and Simple Knits" by Linda Labelle.
I have to say, I read the one single Amazon review and totally disagree with it. I have bought a few yarn dyeing books over the past few years and honestly, got rid of them almost right away. There wasn't anything in them I couldn't find for free over the internet. Most covered only acid dyes and this one covers Kool-Aid dyeing, etc. It also features several people who dye professionally and different techniques which can be used (steam method, stove top, Mason jars) as well as hand painting, self-striping and others and quite honestly, it's a keeper in my opinion. They also had patterns for both knit and crochet, easy beginner patterns, but it was nice to see crochet added. I have some kid mohair upstairs I had been planning to dye for a while, was nervous about dyeing it, and I'll use one of the techniques in the book and see how it goes. I also have some superwash sock yarn, merino sock yarn and ww yarn wanting to be dyed, so it could be a learning experience for us all. I promise a more in-depth review as soon as I finish it. I plan on making one of the scarf patterns in the book using some mohair I already have just to see how it goes too. I skimmed through it and now am delving more deeply into it. I do want to thank the nice people (Katherine)at
Potter Craft/Random House
for allowing me the opportunity to review it.