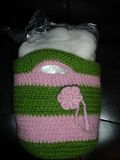 I finally got around to felting the bag. It's fuzzier in person, but I think I'll run it through a few more times (darn low agitation washer). The Caron Felt-It was easier than the Lamb's Pride Bulky-this went through about 8 times already. It has shrunk (I haven't done the measurements yet), it's become more fabric like, but still has the stitch definition. Since I have til December, I'll more than likely "re-felt" it.
The colors worked out perfectly (IMHO).
I made another hat yesterday and am working on a Unisex Beanie for someone else. Yes, I have to start the ghan project-those "big" projects always make me want to just make little things for a while. I also received two more books from Random House/Potter Books via Fed Ex on Saturday that I will be reviewing. I don't have the titles in front of me, but one is on yarn dyeing and has techniques plus knitting and crochet patterns. That one will be out next month. The other is a "Knitter's Guide to Yarn" and I haven't had a chance to go through it yet, but it is available from Potter Books, as well as on Amazon. I told Random House/Potter I didn't knit, but crocheters used the same yarn as knitters and sometimes we felt "dissed" by the titles, so I guess they thought having a crocheter review the book would be kinda cool-stay tuned......