I made two more of these, one for me and one for someone else.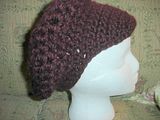 Stashbusting! Yarn used: Less than one skein of Wool-Ease Thick N Quick in Claret-no changes to the pattern at all. Done in an hour.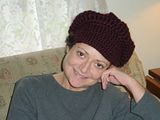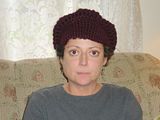 Elena took the pics and I'm not sure the hat is "me"-but the hair is super short now, so it'll do when it's very cold out.
I did finally start the ghan-Soft Waves pattern from Jan Eaton-I still hate long projects, but after the first row, it's mindless with the exception of counting stitches with increases and decreases in my head constantly-drives me nuts. Also, Elena asked me about weaving because they're discussing it in art. I went out and bought a potholder loom, plastic one and now, since they use cotton loops instead of the nylon ones when I was a kid-the loom was all lopsided halfway through-so I bought a metal one instead. The loom is a little different from when I was a kid (easier since you don't have to move each row end up and down anymore and you weave) and we did a hot pad yesterday. Now I am so coveting a Harrisville Lap Loom-anyone try one yet? Pics tomorrow of the WIP ghan and hot pad Elena made.