I'm working (still) on the Noro shawl and having doubts-not the pattern or anything, but finished size may be smaller than what I prefer for a shawl. I'm on the last skein and well, a little more than halfway through row count-I have to measure because the gauge was bigger because of change in yarn/hook-I'm just having second thoughts. It would be fine if I had another skein, but I don't-so.......maybe an Adina in the Noro-the colors would be awesome. Frogging will be a pain, but not too bad, I didn't weave ends as I went and since I had to rewind the yarn anyway (musta been an odd batch-matching dyelots, but knots attaching colors throughout skeins and two half skeins, which matched, but weren't put together in another)
Frogged and I'll try the Adina with it. I still have some Mystical Creations yarn I had set aside for a shawl (1,200 yards),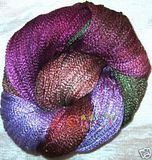 as well as a
different lot
that's 600 yards-maybe I'll use that. It frogged super easily and
April
, the little bits of hay and stuff, once you wind it once and then frog, it all comes out on it's own (ha!)
I'm also currently writing up a review of Doris Chan's "Everyday Crochet" for Random House to post here-they emailed me the beginning of the week (which I thought was pretty cool, but hey, it's the little things in life) and asked about it and I agreed. I have to get some images together and stuff, but hopefully it'll be finished by next week. Just because Random House asked me, doesn't me I'll be biased, you know that-I'll post my true thoughts on it. I like most of the patterns in the book, so it'll be easy ;).
No Foodie Friday post either.....I'll start back up in the next few weeks. Summertime the cooking lightens up and winter I try to do the comfort foods and hope to work on some new recipes and try some recipes out in the coming weeks.