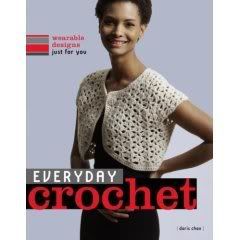 First off, I want to state that I rarely purchase pure pattern books and stick to reference books only because pattern books tend to be "too trendy" and most of the patterns listed would be useless within a year. Having said that, I also want to state I do own Doris Chan's first book, "Amazing Crochet Lace" and and I knew I would also definitely want to own "Everyday Crochet" and was not disappointed. In my opinion, "Everyday Crochet" was even better than "Amazing Crochet Lace"-why?
Totally wearable designs with sizes ranging from 32" bust through 50" bust (and a few 52" busts). All sizing options are listed (no more second guessing) and some even offered tips on bust short rows for those larger busted women. The patterns allow you to make any sleeve length you desire, any length of the tops from waist, to hip, to tunic length. The versatility of the patterns offers something for everyone.
The patterns offered range from cami/tank tops, pullovers, cardis, vests, coats, belts and even (and you know I really liked this) an awesome closure method using two buttons, some beads and elastic thread (no crocheting required)-but also means no sewing required either.
Most of the patterns are classic designs that can be embellished to suir your taste. A perfect example of this are the cami/tank tops.. The first listed, The Cameo is a standard tank, easily adaptable for fuller coverage and you can keep going until you create an A-line tunic. All the adaptations are clearly listed-again, no more second guessing or tweaking to suit your needs on your own. Same pattern, a few easy changes and a completely different look.
I won't lie, as with all pattern books, there are patterns I wouldn't make for myself, but it's all personal preference and I don't think I have ever bought a pattern book or periodical and made every pattern listed.
Most of the patterns are intermediate level, but if you are a beginner, don't let this intimidate you-crocheting clothing items isn't hard. The book explains, in easy to understand terminology, shaping techniques, gauge, yarn substitutions, it covers it all. You will amaze yourself-you'll see.
I think it's a terrific book, one that you will go back to for ideas and projects again and again.
Of course, I can't list all the pictures of all the designs I liked, but will share a few here: