After I finished making Mimi's bag, I had a bunch of rayon/viscose thread left, a ball of
Dazzle
, which only had 82 yards and an idea. Inspired by Mimi's bag, but basically completely changed, I present the Bohemian Bag: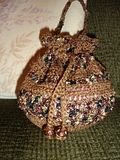 This used up almost the entire ball of Dazzle. It's a bit shorter then the other, wider, all done with a smaller hook. I used a piece of plastic canvas cut to size to hold the shaping on the bottom.
I frogged the sandal socks when I realized I was doing rows instead of rounds-teaches me to start something in the car while driving (I was a passenger-I thought I'd clear that part up).
I will restart the sandal socks today (the skein had knots in it anyway and I'll rewind it up and see how that goes). I plan to also make a few pair of socks for the Ravelry CAL-Laurie Wheeler's from CPAD 2007, In Your Shoes done in Fixation, maybe even a pair from the
"Crocheted Socks"
book I bought ages ago. Yeah, big talk when I haven't even started yet and have a ghan held over my head (LOL). I plan to start the ghan in a couple weeks, when the weather cools a bit. About the ghan-I picked out the PERFECT colors-clueless how much to buy. Figured 40 ounces was enough. Well, I asked my husband what he thought-mistake number one-he has no clue WTH I am talking about, but is nodding about 40 ounces as I babbled in AC Moore. I get home, received an email from someone I asked about their ghan, I needed 4 more skeins. Now, it's one of each color and I was insistent I use the same yarn brand, not mixing any brands or anything. I then forced Elena (and believe me, it was forced) into the car for another ride to AC Moore, third in 4 days. She was not happy and neither was I. Mike thought I was insane-the yarn was no dye lot and it would be there, don't worry-ha-famous last words. I would never start anything knowing I was short and not having it. I get to AC Moore, get to the aisle and the one color-the main color I wanted to pull it all together-sold out. Elena sees a look cross my face and she starts looking around for other colors. I tell her, "no, same yarn brand Elena, no"-there are boxes in the aisle waiting to be unpacked, I dig through them-nothing. The girl working the department tells me "Guess we're out-stop by tomorrow, maybe a truck will come in" (I love these customer service people, I really do). I buy the other three skeins and walk out of AC Moore in a tizzy (it's PMS time too peeps and you know how nutso that makes ya anyway). Elena suggests-Michaels, then Wal-Mart and then Joann. I think the nutso has worn off on the wee one. Anyway, we hit Michaels and Elena runs to the yarn and actually reads the labels and finds the yarn-two skeins left in the "honey"-one mangy as heck, but I only needed one-Elena cheers and the day is saved. That chewed up two hours I'll never get back again! But all is well, I have all the yarn I need, one heavy ghan too-12 skeins. I chose Red Heart Soft Yarn in these colors:




Not done in that order, but I am too lazy to rearrange them. Toast, leaf, honey and chocolate. The honey has a buttery gold color to it-it's not beigy like shown there and the most important color I needed to go with my brother's decor. I can't wait to get started on it.
The
cami
is now gone. I played with it for a day, til it felt like my head was gonna explode. Took it apart, had two sides only and redid it-hated it. Took it apart again, frogged one whole side and then a light came on and I figured it out. I frogged the other side in frustration and put it aside for another day, like maybe next year.