Part of the Ravelry Recipe for SOCK-cess CAL-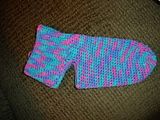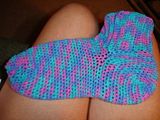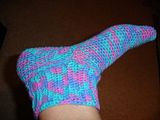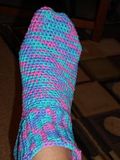 Cascade Fixation Effects-Hyacinth (love the colorway)
Pattern:
In Your Shoes Socks
Hook-F (although I wish I had a Bates E for this, prefer the smaller hook personally). I only have a Clover E hook and just don't like the hooky head on it.
I love using this yarn-because of my freakishly thin feet (not width wise mind you, but from top to bottom) according to
Andrea
, this yarn worked out well for me. I couldn't find it at the LYS when we were on vacation and the LYS store kinda near me doesn't carry it either-I gotta get me some more. This batch came from eBay-lets see how the socks turn out this round.
The afterthought heel section looks a bit big, hopefully it'll work out correctly once I start the rounds-I tend to make the heel a bit big most times and it's been a long time since I made this particular pattern. ETA: It worked out perfectly!
BTW, for those wondering-Elena thinks school is FABULOUS! Loves, adores, is enthralled with her teacher (she
is
way cool) and loves her class too-she's walking on air, even proclaimed that second grade would be the BEST GRADE EVER!. I also received her mandated Terranova scores from last May-and I quote (yes, I am bragging, but I am so proud of her)-"Comparing your daughter to the national peer group, she did better than 99% of other students nationwide in Reading; better than 98% in language; better than 99% in mathematics; better than 99% in her total score". I recall she missed two questions in the language part-didn't get them wrong, but was rushing to be the first one done and completely missed the question! She told her father last night, as well as someone I was on the phone with "That's as high as you can go-that's it, I'm there baby"-so excuse me being all excited, I knew the kid was smart and I'm proud of her!