I finished these up this AM. Love the pattern, however I must have thin feet around or something. I only did the starting ribbing for 46 rows (author did it for 50) and they fit well, but I didn't account for seaming, etc and they were a bit too big around the ribbing (next pair, I liked making them and they felt good on), I'll make the ribbing snug when I measure it and then go from there.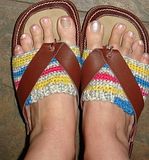 Super fast, worked up in a few hours.
Yarn: Knit Picks Parade (Colorway is Crayon)-about 3/4 of a skein (50 grams, 132 yards a skein), 1/2 ounce left.
Hook: D
Pattern:
This pattern
(sorry, pdf not loading, this takes you to her web page and the link is on the left side)
Part of my CAL project for Recipe for SOCK-cess CAL on Ravelry.