Note: This was later published in the
Crochet Liberation Front First Book Ever
and there was a part left out in the original publication (the heel part)-this is the pattern in it's entirety or free pdf download on Ravelry can be found
here
.
These socks fit my size 7 1/2 feet. You can try them on as you go along and add rounds to make them longer or take out rows to make them shorter. I made mine on the narrow size, so am changing the pattern to fit the average sized foot. Just make sure you you start with an even number for the sc rounds-that way you can divide it by two. I did mine with 34 sc to make it more narrow, but I've changed this to 36 sc for the part after the cuff.
Have fun with these, make the ankle part longer, change the stitch pattern around the ankle-use sock weight yarn and a smaller hook-have fun!
*edited to add-I tried these using Cascade Fixation and the elasticity of the yarn made them move around too much while wearing them-my suggestion is to stick with the worsted yarn and make them snug-not uncomfortable, but snug so they don't slide. I didn't have any problems using the WW yarn, just the yarn that had some "give" to it. I haven't tried it with the sock yarn yet-I will, but I would try these using WW, Patons Merino would be perfect!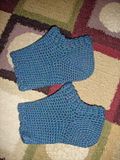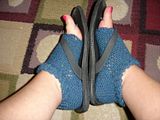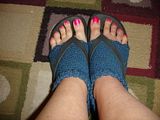 Crocheted Pedicure Socks
Materials
Yarn Used: Lion Brand Wool Ease (you will need a little over an ounce total for a pair of these)
Hook size: F (3.75 mm)
Stitch Markers
Gauge: 5 st x 5 rows = 1"
**Note: you can use any type of yarn/any hook size (as long as it works with the yarn you've chosen;))-Play with it and just make sure your cuff has an even number of rows to start.
*For rounds, do not join, go in a continuous rounds, use stitch marker to mark beginning of round to make things easier.
SC decrease: Draw a loop up on next stitch and then draw a loop up on the next stitch-3 loops on hook, yarn over and draw through all three loops (one decrease made)
Cuff:
Row 1-Chain 5, sc in 2nd chain from hook across, ch 1 and turn (4 sc)
Row 2-Sc in 2nd chain from hook across-BACK LOOP ONLY FROM HERE ON OUT FOR THE CUFF (4 st)
Do this for 42 rows total (if you make this larger, you will have to change your stitch count for making the socks accordingly-make it an even number though).
FO and whipstitch cuff and then turn right side out.
With back seam facing you, join yarn on left side (halfway between the back seam and front of cuff), place stitch marker and crochet evenly around (36 st), add more if you made a bigger cuff. Sc around for 2 more full rounds and then sc around front half (18 sts, ch 18 and join at stitch marker where you first started the rounds. The back of the chain and cuff opening is for the afterthought heel later on. (depending on how many sc stitches you have here, divide it in half for afterthought heel-this is if you are using fingering weight yarn, etc.)
Sc around front and each chain (36 sts) until it measures 4" from the ribbed cuff(try on here and see how it fits). For me, this was 17 rounds. Do not finish off, continue with edging.
Toe edging
Ch 1-sk st, 3 dc in next st, sk st, sc in next, sk st around-this will make the shell edging. Sl st and fo.
Heel:
Attach yarn at side of heel opening and sc around for 5 rounds. Start decrease round (1 st on each side)(use stitch marker) for 7 rounds. Turn inside out and whip stitch heel closed.
edited: Missed stitch in the edging-9/11/07-5:00 PM
SPECIAL THANK YOU TO
TRACIE
FOR TESTING THESE OUT FOR ME
Copyright © 2007 Deneen St Amour-http://yarnsandmusings.com. All Rights Reserved. You may link this pattern, but please do not copy it to your site. For questions, contact me at yarnsandmusings(at)gmail.com