Ah, it's Wednesday yet again and it's not a WIP, but a FO for ya:
The
Floral Cami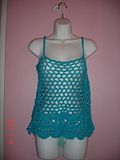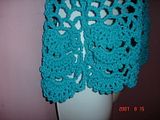 Stats:
Gauge smauge-no clue with the Horizontal net stitch how to figure this one out, but there is so much ease in this stitch, I made the size small and it fits fine. I promise a pic later wearing it with a cami underneath-it may even be a bit big.
Hook: H 5 mm
Yarn: LB Cotton Ease in Popsical Blue- 1 3/4 skeins
Modifications: Pattern was error free, however I did not do the ribbon down the sides but whip stitched up the sides and left the bottom shells open (like in the pic on the pattern page). Still undecided whether I will stitch up by the side of the shells, I have to see how it fits me first.
Will I wear it? I don't know (and yes, I know how many of us have made items never to wear them).
I hope to work on the Abydos vest next and want to thank
Karen
for her specs she just posted. Love the vest too!
I owe emails to about a gazillion people (Tina, I know and I am sorry and promise to get back to you some time today). We had a hectic weekend and beginning of the week and I will play catch up, or try to, the next few days.