I signed up to be an affiliate of theirs yesterday. The link is on my sidebar featuring the "Holy Cow". Why did I sign up? I have been using them for about 2 years now for cards to attach to my FO's (so I can write fiber content and care instructions too). Lately, Mike has been using them for business postcards, business magnets, I ordered some self-inking stamps for work and lastly, a t-shirt for myself.
I ordered the t-shirt cause it was free, just pay shipping, and I wanted to see the quality. I always pick slow method, which is 21 days and get it within 10 days.
The T-shirt is nice-Hanes Beefy-T and it came in yesterday: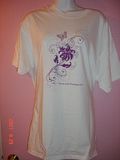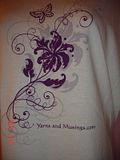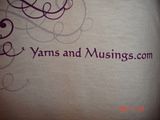 Their artwork, etc-but you can upload your own, even just to make one t-shirt.
I also ordered new business cards from them last week and they arrived a few days ago. They ship all over the world and definitely keep costs down for you. I signed up to be an affiliate because I have used their services and have always been happy with them, never had a problem in 15 orders.
They offer business cards (which can be made up however you want), address labels, personalized stationary, self-inking rubber stamps, t-shirts, magnets, holiday cards. Click the link on the side or below and you can get a t-shirt, 250 business cards and other stuff to try for free, just pay shipping. I promise, you won't be sorry.