We took a few days and went to central PA, Elysburg/Danville to be exact. Our destination was
Knoebels
. It was fun, very hot and we're a bit tired out. The weather broke on Friday rain-wise, however the excessive heat was a bit much-not as bad as it was today, which was the travel day home and they're having thunderstorms there tonight. What we didn't realize was the Little League World Series is being held in nearby Williamsport, PA and the hotel and towns were mobbed-thank goodness we had reservations cause the hotel we stayed out was booked to capacity.
Rides, miniature golf, eating, swimming-the usual amusement park fun.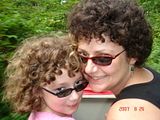 Of course, before we went I tried to scout out yarn shops online and found one over an hour the opposite direction of any place we were heading-however, the telephone book at the hotel scored a hit only 5 minutes away, Swisher's Yarn Basket-nice shop, the owner was super nice and helpful. I went in looking for specific yarn, which they didn't carry, but it was a nice little shop (no website, sorry). I have her email addy though, and can order more from her at any time. I did pick up three balls of Ella Rae Amity Yarn in a pretty plum color to make Elena a shrug (or even myself). It's an acrylic/wool blend, has very nice hand and the owner had made a sweater out of it, had it on display and showed me how it didn't pill or anything.
I also picked up a couple skeins of Plymouth Galway Wool-I can't find the color online anywhere, but it's a three ply, each ply is a different color-with purple, kiwi green and hot pink for each ply. She said it felted great-so I decided a bag would be good.
I also picked up a skein on Supersocke 100 for the Ravelry sock CAL-color was City. Of course I had sock yarn, but it's always fun to try a new sock yarn and with over 400 yards on one skein and since I never tried that brand-something fun.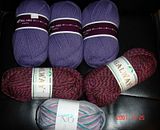 I did manage to start the flip flop socks and did complete two 12" squares for
Blankets for the Gulf.
and I promise pics tomorrow. Once is a basic granny, the other is the Butterfly Square from Heartmade Blessings (link tomorrow too).
Jaye
recommended it and it's a great square pattern, however it only came out 12" using an H hook (all I had, that and a D hook) and I have to add a few rows of DC edging to get it to 12" (the last row was DC around). I also ran out of the yarn color I was using while there and have to check my stash to see if I have any of the Raspberry upstairs, if not, I'll make a complimentary border in SS and then probably make another Butterfly Square in a different color also, go up a hook size and see if it comes out to 12".