A few weeks ago, someone from
Matisse & Jack's
contacted me and asked if I would try out some of their products for a Foodie Friday review.
Matisse & Jack's is a San Francisco based company and I was asked to try and review their Trail Blaze Bake-At-Home Energy Bars. They're whole grain, all natural, no preservatives. Made with organic oats and flax seed. No hydrogenated oils and full of protein as well as a healthy dose of Omega-3 "good" fat.
The Denver Post rated these #1 in taste in a blind taste test of 11
energy bars. They're available mail order and free shipping if you buy 5 or more boxes. They are available in California at many stores, as well as British Columbia.
As someone who doesn't buy many prepackaged mixes and tries to make everything from scratch , this seemed like a terrific alternative for me-but how was it and how did it taste?
First off, I received two packages to try-Cranberry-Walnut and Chocolate Chip. I tried the Cranberry-Walnut this AM.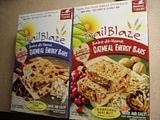 Super easy to make-preheat oven to 350, pour contents of mix into a bowl, add "wet" ingredients. For the "wet" ingredients you can chose from original, which is applesauce and vanilla yogurt; Vegan-which is applesauce and water or Less Sweet, which uses plain yogurt, vanilla extract and water. I chose the original for this batch. It also has options for making this into muffins, etc-but I stuck to the basic recipe to try it out.
Pour mix into bowl, add 2/3 cup applesauce (which for me was two of the single serve containers of Trader Joe's Organic Applesauce) and 1/2 cup of vanilla yogurt. Mix with a wooden spoon. This mixed so easily and fast. I've made homemade granola bars before and, while I like them, they are messy to make and clean up is a pain and I had to mix the ingredients with my hands, etc. This was super easy and clean up was just as easy. The mix smelled terrific too, vanilla and cinnamon-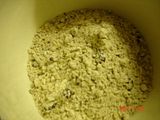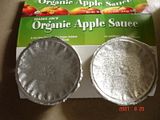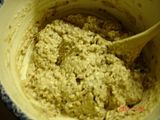 Mixing took about one minute-I poured it into a parchment lined 8 x 8 Corningware pan and baked for 1/2 hour. So far A+ for ease of use and clean up.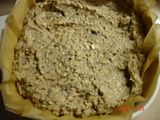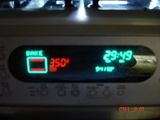 Okay, they're done-
Cooling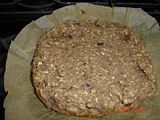 Finally cut into bars and ready to try:
Rating:
Ease to make - A+
Easy Clean Up - A+
Healthy - Unlike other prepackaged bars, which are highly processed for packaged shelf life, these are homemade, fresh and unprocessed - A+
Taste and Texture: You know energy bars are usually quite chewy and dense. These were dense, but tender,moist and had a terrific flavor and texture. They were very filling also.
Cost: Each box yields 9 bars-so each bar costs roughly half the price of a typical energy bar.
Shelf life: After cut into bars, I put these into a container and store in the fridge for up to 7 days-and you know they'll all be gone long before then anyway.
The main test was hubby tonight-he liked them, gave them great reviews and the main question he asked was "can you buy this locally?"-I said no (not for us), but mail order. He asked how much they cost, I told him. Then I asked him if he would buy them again-the answer was a strong "Yes".