I thought it was Wednesday, all day today. I'm all screwy because of going away and working different days of the week now-completely screwy. Not to the point that I don't know where I have to be tomorrow or anything, but as far as trying to get stuff done around here, errands, work, the whole thing-confused sometimes. This was supposed to be a WIP post, so it will be. How about a FO and WIP post?
I finished the two squares to be sent to
Priscilla
for
Blankets for the Gulf
and a Fiber Freaks ghan we're donating. I plan to make a few more, but want to get these sent out to her in the next week or so.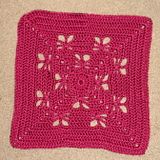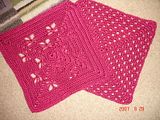 I am such a dork and really liked making the squares. (I should clarify-I feel like a dork for being "afraid" of making squares, not actually liking making them) I liked the
Butterfly Garden
pattern a lot and plan to make a ghan with these, however I will say, mine came out 10" using the H-8 hook. The pattern says "or any hook for gauge" and doesn't list a gauge-next time I'll try an I hook. For this one, I added a few rows of dc edging to it. These were done in Caron Simply Soft Raspberry.
Jaye
sent me the pattern link and she was right, it's great.
I am almost finished the "secret project", still have to type up the pattern and stuff, but almost done. Want to have this mailed out by next week at the latest.
I also owe PattyPA/Merlot a thank you for sending me a skein of the Bernat Matrix I needed to make the
evening bag
. Oh and
Mimi
, I am such a dork and didn't realize the CPAD calendar used two days for the pattern-I had grabbed the first page and put it in the front and last night stumbled across the other page. I wish they would print something like "continued on _______ date" or something. So the pattern they had was correct.
I also have to send a Thank you out to the gals at
Good Yarn Karma
. Lu (sorry, they deleted the post already and I don't have her link) sent this my way for the bag-before I realized it wasn't enough, but I'll either use it for something else or pass it on. I have a little yarn I want to post up there-spread the good yarn karma around.
I also found a new
"DeStash"
blog on Wordpress. You have to have a blog to post things on there (not a Wordpress one, but you have to have at least a Wordpress user name), which I conveniently can never remember. You also have to joining the DeStash community on Wordpress. However, you don't have to be a member to purchase anything. I haven't bought anything yet, just peeking.
I have bought some destashed yarn off of Ravelry, but not a lot or anything, just odds and ends.
All for today, have a great night.