Today I had a GI appointment (went fine, no earth shattering news) and got home to a box full of mail.
First off, my Fiber and Frappe swap package from
Fiber Freaks
came in!
Theresa
was my secret swap partner and she sent me: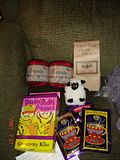 Two balls of mercerized cotton crochet thread (on my wish list) in Scarlett, a sheep tape measure, some Chai tea, some awesome smelling coffee from her local coffee house and a bead kit for Elena (of course, Elena was so excited I got a package from a "friend", she insisted I open it immediately, in case there was something for her. I told her there wasn't, but I was wrong and Elena won't let me forget it!). The past month she has received gifts in the mail from three "friends" and now she expects it-oy!.
Ironically, the color the thread is beautiful and a color I haven't seen around here and my Elann order came in today (the Brilla) and if you look, the red I picked out for the longer Abydos top is the same color as the thread Theresa sent me! Also shown is the Chic neutrals I picked out for the shorter version. I better figure out the ch/sc part fast! The Brilla feels so nice, I can't wait to start playing.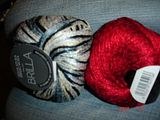 I also received a pattern I won on eBay: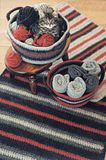 Fiber Trends 216-Felted rug and basket pattern. I bought some Lamb's Pride Bulky in Kiwi from someone on Ravelry and then she listed some Victorian Pink also, so I plan to make one or the other using this pattern.
Also, as a fan of
Paperback Swap
, lately I've been buying the Lemony Snicket Hardback books for Elena (up to book 5) and I have an ongoing wish list, although am low on the list for lots. Finally, the
"Knitting In Plain English"
book came up. I used the "crocheting in Plain English" book to teach myself to crochet years ago and got the knitting book from the library to check it out and decided I wanted it, but never got around to buying it-I am so excited (don't know why, but I am) about getting this book.

I love the way she writes and still pull out the crochet book for reference a lot.
I've also been working on a crochet design using fingering weight yarn and am excited about the progress. Here's a sneak peek: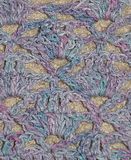 All for now, Mike is cooking dinner and he's calling me in!