I finished it up this AM, but plan to frog the arm round and redo it because one side has a slight buckle/ruffle that's driving me crazy.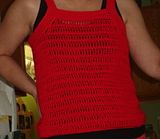 Pattern:
LB Tunic
Modifications: I made this into a tank instead of a tunic length and opted to leave the pockets off. This came out to be about 13 1/4" long, from the armpit down. See Notes below.
Yarn used: Lion Brand Cotton-Ease, Cherry Red (old stash). Amount used was 2 full skeins and a bit of another.
Hook Size-I hook
Size-this is the L, 40" bust.
Notes: To make it shorter, I did the following:
Followed pattern stitch (rows 1, 2 and 3) and then rows 2 and 3 for a total of 10 rows-ending in row 2.
1st decrease row: Did this row (row 11) and then even in pattern (rows 12-18) ending with row 2.
Next Row section (2nd decrease) repeat row 11 (this is row 19) and then even row 20-22 (ending in row 2)
Shape armholes as directed.