Today I received my tote as part of the tote swap at
Crochet Depot
.
Naomi
was my swap partner and boy was a lucky!
Imagine my complete and total glee (yeah it's a word and yeah sometimes I use it in sentences) when I opened the package and found this: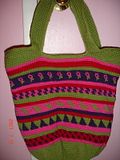 Clickable
Is this not fab? OMG, I swear I peed myself. And mind you, this was after finally having ventured to a
semi-LYS
today and feeling up yarn for a bit today. More on that later.
Some may have recalled
this post
. Yup, the yarn for it is sitting upstairs and no, I never even did one stitch because the whole task of sc and chart reading and lining seemed too overwhelming. I moved the bag the other day and peeked in and said "Hmmm, I really should start this soon-hmmmm (as I place the bag of yarn back into the plastic tote)".
Naomi even lined it with several pockets going all the way around and a magnetic snap closure: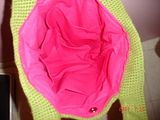 Is this not wicked awesome???
She also included a ginormous (I can now use this word freely, Websters has declared it a word and it is perfectly acceptable now) skein of Plymouth Yarn Outback Mohair that is gorgeous. Weirdly, I had my hand on a skein of Plymouth Yarn Outback Wool today and stepped away from it-never heard of it til today.....
Elena even got a trinket box kit from Curiosity Kits. She was thrilled-crafts, glue and paint, who wouldn't be? She even said "Wow, I didn't expect mail for ME today!".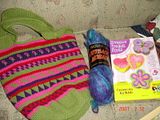 You can tell how ginormous the skein of yarn is compared to the bag for size.
I am still so excited-thank you so much Naomi.
Anywho, found the LYS, remembered
Rob
mentioning something about the clerk being a bit of an "el douche bag", but since I was driving right the heck past it to take my mom to the doctor's office and since I had driven that way several times before and never found the damn place, I called yesterday and got exact location. Who would have guessed it would be in the back of a plaza that has doctor's offices in it-crap location. I got there, had that normal "sweaty palms-head rush" I usually get as I emerge from the car to the store. Elena brought in her Gameboy, proclaimed she wasn't thrilled and we went in. It was okay-no big deal, honestly overpriced compared to online prices for the same exact yarn. An example is Ibought two skeins of Noro Kureyon to make
this bag
from
Amy O'Neill Houck
. It called for two skeins of Noro and rather then break up a family of four skeins I already had, I decided to buy two skeins. Normally sells for $8.50, but at the LYS-$10.50 a skein. I still bought it just for the thrill of having it.I also bought two skeins of Cascade 220, in two different shades of purple to go with a Cascade purple tweed yarn I already had and hopefully make a felted bag that
Andrea
(ahem, hint) is designing as I type. I think that was $1 more a skein then I've seen, but then again, I don't have a LYS and I needed a fix for some "real" yarn instead of feeling up my stash for the umpteenth time. I also picked up Interweave's
"The Crocheter's Handy Guide to Yarn Requirements"
just cause I wanted it and it was there and I felt the need to buy it-could be "handy" like they said. I also picked up a No name (although I bought the same Chinese hook brand off of a seller on eBay last year in a different size) H hook in bamboo that had the store name imprinted on it. The wholesaler had sent me info about the hooks way back and said you could have the name imprinted on it, etc. I think the min order was 100 and I couldn't imagine have 100 hooks in the same size lying around that said "Yarns and Musings", could you? Anyway, the hook was because I want a few more Laurel Hill hooks and
Sheryl
has the audacity to be in NH and not sitting by the phone at
Yarntopia
waiting for my order! This will have to hold me over til she's back, gets the order and ships said order. I love the weight and feel of the Laurel Hill hook. In any event, I did manage to spend $50 some odd bucks at a store that didn't have what I was looking for-drop in the bucket yarn-wise, but I swear my mom, who has no hobbies gasped at the total and I think my husband winced a little (it's my money anyway) when I said the store was a disappointment, yet I managed to spend $52.50. I will say this for the store-they had lots of crochet magazines, as well as knitting and some crochet books and pattern books. The CPAD 2007 calendar was on the counter, upright, opened to the correct date. Of course I had to mention "Oh, I'm in that"-which then meant she had to dig through it til she found my patterns. She was nice to me, chatty and all, just don't know how often I will go back since, again, online and ebay prices (even with shipping) are cheaper).