I've been in a crochet slump-to say the least. In any event, I did manage to squeeze in a project for Elena-a shrug to go with her dress for the wedding we have in September. Of course, she can wear it any time, but that was the idea I had in mind.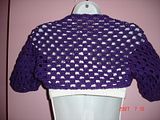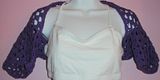 Bad pics, I know, but it is cute.
Pattern:
Girls Openwork Shrug
Hook: 4.5 mm hook (H)
Yarn:
Knit Picks Cotlin
-2 skeins-Royal Plum. This worked up so nicely and has a terrific drape. I have to order more for myself-wish they had some other colors.
Modifications: I went up a size for a 7/8. The pattern lists the multiples, so it was super easy. Nice pattern, works up fast.
ETA-I received the CPAD Calendar for 2008 yesterday and skimmed through it. Although I like the patterns the designers submitted, several patterns and I do mean "several" were freebies from the Patons website, as well as Bernat (Canada-Sugar N Cream here in the US) which surprised me. Basically, I thought the 2007 was much better-