Can you say rut? I can't figure out what I want to make next...I hate when this happens. I have patterns picked out, but I don't feel like complicated or ones that will make me thing, hence: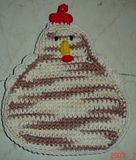 Yet Another Chicken (for my mom)done in Peaches and Cream-colorway Desert Sand.
Next up, quick gardening question-Anyone know what kind of squash this is: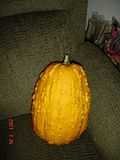 Someone gave it to me, yet I don't know how to even prepare it.
If you click the squash, you will see part of my collection of knitting needles still waiting to be played with. Sigh