Many of my readers know I can be "frugal" about some things-well, do you recall me mentioning towards the end of the school year, when it was still too cool for Elena to wear her newer spring/summer clothes, she was blowing through her jeans (the knees) at an alarming rate? I didn't want to buy new jeans because she would outgrow them by summer's end and I knew it would only be another week or so before she could wear the new clothes I bought her for the warmer weather. As a temp fix, for two pair, I used #3 thread and crocheted a flower and sewed them on the small holes, but two pair were irreparable. Completely blown out knees and usually I would just toss them, but then I got an idea (sometimes not a good thing with me). I used my rotary blade and cut them off just above the tear in the knee and left them sit and stare at me for a long time til I decided I had to either try my idea or toss em. Well, I tried my idea on one pair and it worked out okay-a few things I'll work on for the next pair, but anyway.
I used the
Skip Stitch blade
I blogged about back in January. And yes, first time I used it (no, I haven't made those baby blankets yet and Mike is worried the kids will be in college before I get to them), but anyway-I measured approx 3/4" above the bottom, placed the ruler on the jeans and just ran the blade across. The slits were so tiny, you couldn't see them, but yet it was easy to crochet through them (there was a problem at the side seams and I had to use a big "weaving in" needle to make a hole for those areas.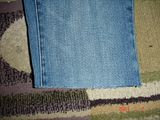 Pre-Idea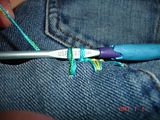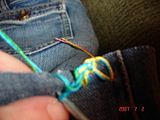 Working it!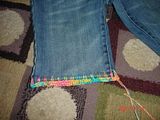 One leg down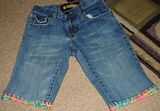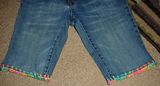 Finished
I used
Mimi's
Cannon Cotton #8 thread and an F hook. The thread was doubled up. Used a scant amount. I did a sl st in the first cut, ch 2, sc around and then sl st for the first round and then ch 1, *2 sc in ch 2 spaces, sc in next st around. I didn't sew a hem on them first, while crocheting around the edges it kind of folded a hem on it's own-next pair I will try to do a hem. Elena saw them and proclaimed "They're too short as jeans"-I explained about Bermuda shorts and Elena announced "I told you, no shorts that come to my knee, I don't like those"-so we will see if she wears them, but it was still a project to try out.