Elann.com had Brilla yarn
starting noon (my time) today for $2.89 a ball. Of course, the
Doris Chan Amazing Crochet Lace
had a pattern, the Abydos Vest: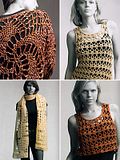 Images on the right side.
Well it called for this yarn and when I got my Elann newsletter and it said July 24th-I actually marked it on my calendar (dork, I know). Bron mentioned having a dentist appointment and not wanting to miss the sale. I never thought colors would sell out so fast, but Bron told me they do. So at 12:00 noon, on the nose, I was on the site and picked up three balls of the Chic Neutral (now sold out, 1/2 hour later), as well as the 4 balls of the Blue Blood Red. I plan to make the shorter version in the Chic Neutral (gray, off white, tan, etc) and the slightly longer version in the Blue Blood Red.
Yup peeps, it's the little things that I live for......