With all the blueberries sitting around, I managed to make a huge Blueberry Crisp on Monday and baked a Blueberry cake today. Mike's eaten some on cereal, but I ended up cleaning and freezing a bunch this AM, hence the cake baking.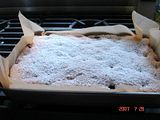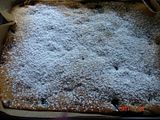 Blueberry Cake
1/2 cup butter-softened (one stick)
2 cups sugar
2 eegs
3 1/4 cups all purpose flour
1 tsp. cream of tartar
1/2 tsp baking sode
1 cup milk
4 cups fresh blueberries
Confectioner Sugar (for top of cake)
Directions:
Cream butter and sugar together, add eggs and blend well.
Mix flour, cream of tartar and baking soda in a separate bowl-add to butter, sugar and eggs and mix alternately with milk.
Fold in berries.
Bake in 350 degree over in greased and floured 9 x 13" pan for about 40 minutes* or until center is cooked through (I use parchment paper to line my baking pans all the time-as seen in the pic above instead of flouring and buttering the pan-easy clean up and it keeps my non-stick pans from getting scratched when cutting it). Cool and sprinkle with confectioner's sugar.
*When I use a dark non-stick pan or glass pan, I go down 25 degrees in the temp called for(I did mine on 325 and baked for 48-50 minutes)
ETA: We had some tonight, Mike ate two pieces, so apparently it was good (LOL). It's a not too sweet, moist cake-like a big blueberry muffin without the stumps!