One of my tomato plants is barely holding on. It's the hybrid (sorry
Rob,
not heirloom.) I knew it was some kind of pest-half eaten tomatoes and sparse leaves. Now, we got a lot of tomatoes from out 4 plants-tons, but then suddenly the one stopped producing. I checked it again yesterday and couldn't figure it out-then, this AM, Mike found this: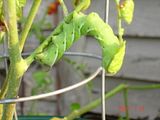 Clickable
Damn thing looks just like the stems. I cut off that stem and checked all the other plants and they're fine. Not one for using any insecticides, I just put it in a bag and made Mike smush it. It's a
Hornworm.
This is what it was doing to the tomatoes.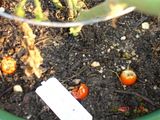 Clickable
Onto other news, I am still working on the tunic. I also plan to write up the tote pattern for testing. I also finished
Amy's
Noro messenger bag and have to line it, as well as Mimi's bag (yes, still).
I'm now addicted to the spoiler site for BBVII and really am rooting for Dick and Daniele-I would say "I love Dick", but that statement elicits snorts and giggles from my husband, so I stopped using that phrase around the house.
Yesterday I went shopping (again) and found a dress and shoes for the wedding we have in September.

Clickable
Really bad pic-Elena took it last night. I wasn't looking for a dress, but went to Kohl's to look at sandals and the dress was right there, at 80% off ($11.60!!!!), so I tried it on, it fit and I bought it. Then I had to go to Target for coffee pods (Naomi and Wendy-Archer Farms brand-$3.99 a box and they have decaf) and found the shoes on clearance, marked $8.48. They're leather and they matched. When I got to the register, they rang up at $4.48! So, yes, the entire outfit cost under $20-can't beat that.