Ya know, I rarely peruse the LB website because I get sucked in and lots of times end up with a headache from tweaking and playing and then force myself to finish it, even if I hate it.
I got sucked into the site last night and plan to start
this
: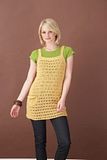 Cotton Ease in Cherry Red-maybe not as long as the one in the pic, but you get the idea.
I also spied
this
: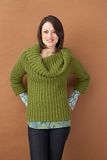 Maybe done in this stretch wool yarn I got off of
Bron
ages ago (Schachenmayr Only Stretch
Fibre Content: 40% Superwash Wool/ 30% Acrylic/ 30% Nylon
Made In: Italy
Care: Machine Wash Cold/ Dry Flat
Gauge: 20 st/4 inches 4.5-5.5 mm (US 7-9)
50g (1.75 oz) ball Yardage: 125 m (136 yards). The issue I have is the sleeves and will they look wonky-I keep studying the pic and realize it's in it's best possible light. I never used the stretch merino before and think I could easily go down a bust size for this to account for the stretch.
Not much went on this weekend-cooking out, swimming, hanging out. I did hook up a Noro bag to be felted and start the "new, improved water bottle holder", but that's not done yet.
Gotta run, Elena needs to be dropped off to camp.