First off, super dooper big thanks to
Su!
Today, we arrived home from seeing Order of the Phoenix (great movie BTW) and there was a few goodies in the mail: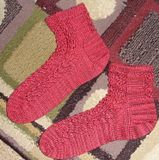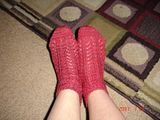 Knit socks! Perfect fit too! Love em! I can't express how much I love the handmade socks.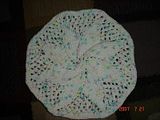 Washcloth-too pretty to use, but I will ;)
Elena got some pressies too-even wrapped em, which made them oh so perfect in her eyes. She adored the beads, caught me eyeing some of the larger ones and shooed me away! She loved the troll pencil also and sharpened it immediately for use.
Bron
also sent me a terrific little package:
The Secret
, a book I wanted to read, as well as a cool knitting book-thanks so much for thinking of me.
Finally, I finished the second chicken for the hotpad set: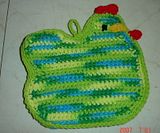 All in all, a pretty productive and surprise filled day!