I am so excited, see
Tiffany
blogged about the hook first-Laurel Hill hook (made of palmwood)! I have been looking for these all over, but wanted to know if it had a Boye head or a more inline head like Bates-she mentioned
Yarntopia
, which led me to
Sheryl
, one of the partners who owns Yarntopia in Texas and someone who's blog I read and she's also used my
"Marvelous Fulled Mini Tote"
pattern to teach a class is felting/fulling crochet. What did I do? I went to the website (still a work in progress) and then I emailed Sheryl. They carry the hooks! She verified they had the inline head and also a more pointed head for ease of use. I was so excited. I ordered an "I" hook to try out (figured I used that the most, followed by H and then J-I will update you on how much I love it (but it's so pretty and lightweight, how could I not?) and I plan to get a few more sizes in July!
Sheryl also sent me a little something extra she got at the TNNA-how cool is this?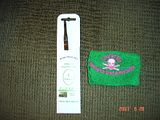 I'm clickable!
Thanks Sheryl!
ETA: I'm using it now and love it and am having no trouble with it's "untapered neck"-gah! I'll order more at the beginning of the month!