Ha! I am actually crocheting something: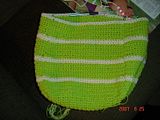 The above picture will be this: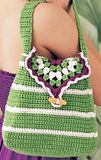 This is from the latest
Crochet Today!
magazine.
Of course I decided not to use the yarn they called for (RH Soft Yarn). This is a stash buster for me. I had several balls of the lime green (it's really more green in person) 100% cotton yarn in my stash, Bernat Handicrafter? Sugar N Cream Hot Lime? Don't know. The off white is some Peaches and Cream and I plan to do the granny closure using those two colors plus Sugar N Cream in Summer Splash, which has those colors plus some turquoise blue and yellow-and no, it's not all wonky, the bag is flat and those are the sides-it's working up great and will be tapered just like the bag in the magazine (I swear).
I also received a few mail goodies today: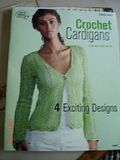 Thanks
Sara
!
I also received the latest
Halcyon Yarns Catalogs
-full of cool yarn, toys and info, including too many cute items to felt-damn them!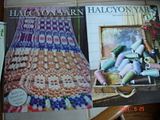 Other then that, we had a fab dinner out on Saturday for our anniversary (thanks for all the well wishes!)-grown up waitress, no kids and grown up restaurant-woo!hoo!-I forgot how much I missed that. It was a little restaurant the next town over. We ate there before years ago, not a place for kids and well, we have one, so......anyway, no website, but here's a
link to a review
. It was terrific! We then went to the tattoo place a few doors down to discuss tattoos-yes, I am giving in. I am getting two done-one on lower back and one in between my shoulder blades. I had an idea about the lower back one, but am now wavering, but the upper back one will have Elena's name in script with some fancy stuff around it. I was going to get one next month, but I realized, after going in that I couldn't go swimming or in the sun for a month after getting the tattoo, so now I will wait til we get back from Aruba in September-I'm outside too much this time of year and swim almost daily.
I also got the results back from the Celiac test-NEGATIVE! I am thankful because this weekend I found out how damn hard it was to get gluten/wheat free stuff and how much wheat/gluten is in stuff you never expected. Again, I am in "limbo" trying to figure out what is wrong, but the meds are helping and I'll worry about it another time-it's summer and it's fun time for us, so I wanna keep it that way. Just think positive, it was a fluke thing a few weeks ago, maybe viral and I'll leave it at that.
Naomi
, the actual bag has been done for a week, the lining is waiting to be done, but it'll get done (I know I have til the end of July), but I didn't want you to think I forgot or anything. I'm actually terrified of lining it, truth be told, but I'll overcome that fear-eta-the above bag is not your tote bag-I wouldn't post it before I sent it to ya ;)
Other then that, not much else going on-life is good, pretty nice weather (rained today, but sometimes we need that-at least I got out of watering tonight), Elena's loving summer vacay and I'm enjoying the time I get to spend with her. Talk to me about it in August and you may get a different response!