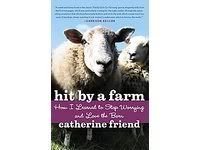 I finished the book up last night (loved it) and as per my previous post am passing it on. I won it through a contest on
Fiber Femmes
and how can you win it?
1) Leave a comment on this post telling me you wanna win it (if you have problems commenting on Blogger, then pop me a quick email and put "I wanna win it" in the subject and I'll include you in the contest. Yarnsandmusings(at)gmail (dot) com.
2) I ask, but it's not mandatory, that when you're done reading the book, you do the same on your blog-pass it on.
Simple, no?
Short contest, I'll leave it open through Tuesday at noon. Since I am sometimes Blogger challenged and am not sure how to keep this post on top of the rest, I will not post any new posts til Monday at noon. I'll toss all the names in a hat and have Elena draw the winner.
It was a terrific read for anyway-I learned some interesting stuff and had a few good belly laughs-what more can ya ask for?
Here are a few excerpts:
From Booklist
Farming had never been children's book writer Friend's dream; her fantasies ran more along the lines of nurturing her writing career. But when her partner, Melissa, talks her into buying a farm--and reality hits in the form of 53 worn-out acres in Minnesota--she learns how to test a ram's testicles and select a flock of 50 ewe lambs by the scientific criteria of who had the cutest face and could be caught, and she is now in the sheep business. The couple soon adds a border collie, 2 pet goats, 150 chickens, 200 grapevines, an old pickup, and an even older tractor and begin to acquire the skills needed to make a go of it. This honest look at collaboration and compromise, the pain and the joy of partnership, and the hands-on of farming will find a ready audience. Nancy Bent
Copyright © American Library Association. All rights reserved
Book Description
Farms have fences. People have boundaries. Mine began crumbling the day I knelt behind a male sheep, reached between his legs, and squeezed his testicles. This took place one blustery November day when I joined other shepherd-wannabees for a class on the basics of raising sheep. I was there with my partner Melissa, the woman I'd lived with for twelve years, because we were going to start a farm .

When self-confessed "urban bookworm" Catherine Friend's partner of twelve years decides she wants to fulfill her lifelong dream of owning a farm, Catherine agrees. What ensues is a crash course in both living off and with the land that ultimately allows Catherine to help fulfill Melissa's dreams while not losing sight of her own.

Hit by a Farm is a hilarious recounting of Catherine and Melissa's trials of "getting back to the land." It is also a coming-of (middle)-age story of a woman trying to cross the divide between who she is and who she wants to be, and the story of a couple who say "goodbye city life" — and learn more than they ever bargained for about love, land, and yes, sheep sex.
Good Luck!